THE BALL visits its 220,000 siblings in its birthplace in Goch
In the afternoon we are warmly welcomed at DERBYSTAR. DERBYSTAR is one of our partners on this Journey and supports us with the sponsoring of balls and jerseys. The members of the staff are very interested to learn what is happening to their "baby" and attentively follow the story around the route of 2018, which started 3 weeks ago in Battersea Park in London, then kindly offer their help in the networking with further possible project partners.
Since 1963 Derbystar produces footballs sewn by hand.
In order to achieve its goal to produce special balls ("the best ball"), the company has invested much time and energy into the development of new technologies and has extended its range of products.
"THE BALL" – a fair-trade Ball
Derbystar is a licensed fair-trade partner since 2005 and produces fair-trade balls like "The Ball" in Pakistan. This social commitment is an additional quality feature of the company.
How does design get onto the ball?
This is how it happens with DERBYSTAR: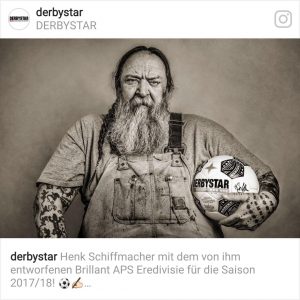 NEW, CREATIVE, INNOVATIVE
Free white spaces aren't to the liking of tatoo artist Henk Schiffmacher – too uniform and uncreative probably. Visiting Derbystar one day, he grabbed a marker pen and decorated the "white, round canvases". Thus was born the new Brilliant APS Erdivise for the season of 2017/2018.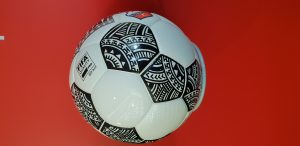 With SPIRIT OF FOOTBALL …
it happens by agreeing to our values and fair-play rules, making a header and … signing.
Written by Franzi Schaper & Ulrike Enders on Friday, April 13th, 2018