Aachen, 31st March 2018
A Colourful Bouquet of Encounters
Lunchtime! The Ball is hungry!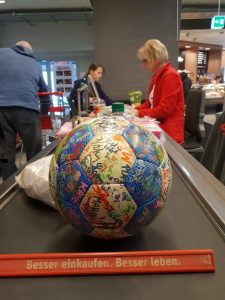 At the cashier's they look for the barcode in vain. And Benni, the trickster, laughs up his sleeve!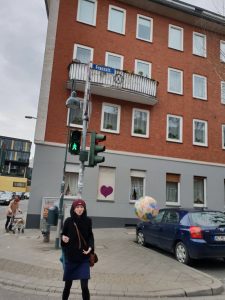 A street named after me! I walk down the Franzstraße, doing headers, and the positive energy of The Ball transmits itself to me and the wondering passers-by.
On the way to the Aachen Cathedral we meet many friendly people of different nationalities.
The Ball helps us overcome language barriers.
A Spanish exchange student, who liked our interaction very much:
UNA PELOTA EN EL MUNDO!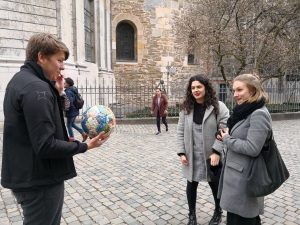 In the Aachen Cathedral we meet a French family, who have taken a trip here over the holidays. The kids are enthusiastic about the colourful ball, mother and grandmother about our message!
UNE BALLE, UN MONDE!
Cathedral Square. Aachen.
People hurry back and forth.
Head straight on,
The gaze fixed and empty
Thoughts turned inwards.
Not really seeing anything.
In front of the Cathedral we meet Thomas-Church Thomas,
someone with a friendly mind,
without a home.
Here too we we immediately find a topic through the Ball!
The Ball creates points of contact where there would be none otherwise!
The Ball makes people speak and gives a voice!
People often have barriers in their heads – The Ball doesn't!
We do! We decided not to take a picture of Thomas-Church Thomas.
We didn't want to exhibit poverty and didn't record this moment for the media.
Sometimes barriers in the head are good – or have we discriminated him? Is this a barrier deep within us, that we couldn't, wouldn't overcome?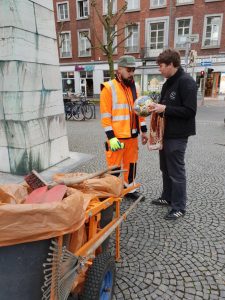 In front of the theatre we meet an employee of the public waste management. A really cool dustbinman!
RESPECT!
And thanks for such a clean city of Aachen!
ENDURANCE-RUNNERS, WHO KNOW THEIR LIMITS
Eupen, 31st March 2018
The endurance-specialists Andrew, Benni and Martin register for the Easter Run. They think about joining the 15 km run… But the last days, with the preparations for the journey, the Kick off, school projects, interviews, lack of sleep, have taken their toll on nerves and fitness.
And so they opted for the 8km run. For normal citizens, where everyone can join. "For those who're not so fast!" as a perky little boy says.
But I say "Chapeau – what an achievement!" I wouldn't even have made 500 m after the trip to Aachen.
The finish is accompanied by small stories about The Ball from the stadium commentator, which of course attracts more interested people.
Although we were in Eupen for only three days, we were soon recognized by everyone and talked to about the Ball.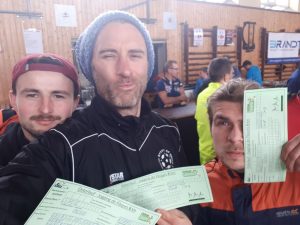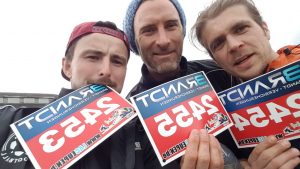 Written by Franzi Schaper & Ulrike Enders on Monday, April 2nd, 2018