Saturday, May 12th 2018
Discrimination and respect: two themes that play a big role in almost all of the workshops on our journey. For myself, talks on this have hardly ever been as touching as during the last few days, when we carried through a workshop with the members of the Refugee Team of ARSIS – Association for the Social Support of Youth – and a few students of the Aristotle University of Thessaloniki.
We started with the team game we often use, called "Journey to Moscow"- an icebreaker. This time however we encountered problems with the story we usually present it with. One of the boys didn't want to participate. He assumed that we were financed by Russian organisations. Later we learned, that his brother had been hit in a Russian bomb attack and that it was uncertain whether he would live. Luckily we could talk to him and clear up the situation.
After we had presented SoF and "The Ball 2018", we played "Speed-Dating". We like to use this game to incite exchange and lively discussions, by talking about a given question in pairs. One question was "What does respect mean to you and how can one show it in day-to-day life?". This is when I sat opposite the boy, who had told us about his brother. He explained to me, that he had't been given any respect in the past years and that it was therefore difficult for him to show it in his turn. Six years ago he had fled from Syria and lived in Turkey for four years. For the past two years he has been living in Greece. And now he has booked a flight to Hamburg for the coming week. He has the great hope, that he will experience some more respect from the people there.
It is certainly difficult to retain respect for others, when one feels, that one doesn't receive it oneself. It is however all the more important to start with oneself and try to come across in a positive way, and not to function solely as a mirror – this is the message of Spirit of Football. After a fair-play football game, we watched a friendly match between the Aris F.C. and the guys of ARSIS.
The next morning the same group waited for us at the University. The fair-play theatre method inspired a discussion on discrimination and some of the participants told us about their experiences. I was especially touched by one story, which focused less on the actual instance of discrimination, but rather on the the people who had stood up for the discriminated person. This is the statement that stayed in my mind: There will probably always be discrimination in the world, but as long as there are people who stand up for each other, it will always lose.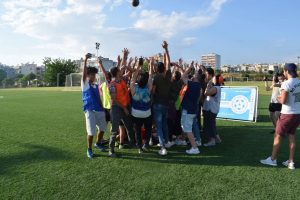 Written by Anna Schnitzer & Ulrike Enders on Saturday, May 12th, 2018