3 Countries – Belgium, Netherlands, Germany all come together at Vaalserberg
31st March 2018
The main sponsor of the Ball Journey is the Robert Bosch Foundation, which actively engages in international understanding within Europe and with its neighbours.
One of the main themes of this fifth edition of the Journey is the strengthening of Europe through football.
Confronted with current issues like the Brexit, the so-called refugee-crisis and the ensuing strengthening of right-wing parties, we want to counteract the crumbling of Europe with our means of educational projects for integration and inclusion.
This is why we want to make a few takes of the place, where Germany, Belgium and the Netherlands meet, to include them in the documentary we are making of our journey.
Slowly we wind our way along countriy roads, all along the border, to the place of our focus.
Benni at the steering wheel,
the film crew and Frank Albers of the Robert Bosch Foundation in the back,
I am the navigator.
The satnav says turn left… Bling! The mobile bleeps.
Bienvenue en Belgique.
Damn, the satnav pans out, nothing goes.
The route is quickly typed in again.
Ahh! Right after all! Blinng! The mobile again!
Welkom in Nederland!
No chance!
Again the satnav is reprogrammed,
Netherlands, Belgium
Belgium, Netherlands
Our mobile is going crazy!
A village with crooked streets
Left, right, straight on, right again…
Aaaaagh, I'm sure that we're driving in a circle.
We're constantly receiving the infos from the new mobile-network.
Benni is nervous.
I never liked this new technology.
It's no fun being a navigator…
Crazy, how often we have crossed borders in such a short while!!!
35 years ago this wasn't possible… without border controls of passports.
This is indeed an advantage created by the Schengen agreement on a free Europe and belongs to the success stories of the EU.
Ahead we see a cross-road of three.
Which should we take? Another try with the satnav…
We are in Belgium. The film crew has to catch a train soon!
We are left with one hour for filming and driving back to Aachen.
The crew checks the train connections on the phone – a few years back that wasn't possible – and are happy about free roaming-rates.
Bling! The mobile bleeps: Welkom in Nederland!
We have arrived!
At a place which stands for Europe without borders
A symbol of freedom!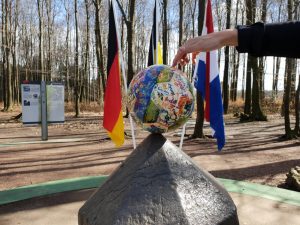 Just next to it is an inconspicuous stone, stating:
"Highest point of the Netherlands – 322M above sea-level"
We never noticed, hahaha!!!
Even parts of Erfurt, which lies in the Thuringian Basin, are higher. The airport, for instance, is at 315m.
Written by Franzi Schaper & Ulrike Enders on Sunday, April 1st, 2018