#new folkmusik #alpenjazztechno
#Bavarian Gypsy, brass, funk
#brassmusik #rocknroll #magnifique
Saturday, 21st April 2018
We meet LaBrassBanda, a very special balkan-brass band from Übersee on Lake Chiemsee with passion, energy and a great penchant for football.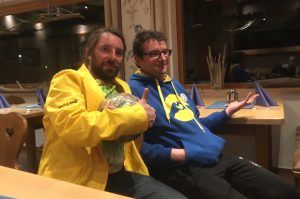 After a cosy bavarian evening, a spontaneous football quiz and a jersey exchange, we start the day with breakfast on the banks of the Alz.
Saturday in Truchtlaching – David Hasselhoff in "Ballwatch"
On the Alz, a very natural-looking river flowing into the Chiemsee, peace and quiet, nature and romance… everyone is playing with the Ball.
Then a moment of shock!
THE BALL falls into the water! But we are lucky because rescue is nigh!
Our David Hasselhoff takes his task as ball-carrier and bodyguard very seriously. He runs athletically to the water in his white underwear and jumps in with conviction.
The boys of LaBrassBanda play on the tuba, trombone and trumpet on the wooden pontoon and give us a small sample gig, while the tough Spirit people jump into the cold water and let themselves float towards Vienna to the sound of Balkan Beats.
Written by Franzi Schaper & Ulrike Enders on Saturday, April 21st, 2018