Learning Centre Nr. 1 – Borussia Park (formerly Stadion am Bökelberg)
Today began our two-week stadium-tour of 10 different Learning Centres of the Federal Republic. For the Kids these Learning Centres represent an interesting change from the usual school programm and an exciting atmosphere for a variety of new learning experiences. In cooperation with our partner Lernort Stadion e.V. we were able to offer them a diverse programme of sport and culture.
Together with our 7th grade workshop Kids we stopped a few Gladbach-players like Christoph Kramer, Mathias Ginter and Lars Stindl after their training for a short interview. For the boys and girls this was a special occasion to meet their idols in person and to get a few photos and autographs. We asked Dieter Hecking, trainer in chief of Borussia, what for him was the Spirit of Football?
What is the Spirit of Football for you?
"The Ball" shows it! All over the world people discuss football. Every weekend, every Monday at the office, in shools.

And this represents the great charisma, which football has. It connects, it connects nationalities.

It connects sports with society. This is a special position, which football has in society!"
This particular radiance of the ball, this aura that surrounds the subject of football, deploys itself in our project, too. the kids had lots of fun and left the workshop with renewed self-assurance.
Where are we here? In the stadium? In prison??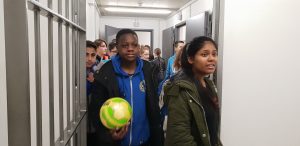 Right!! In the stadium prison!…But just for a visit! ;-)
This class is seen as a problem class in its school and it sees itself as such. Often special competencies of students are overlooked, their deficiencies discovered too late, due to lack of time and skilled personnel. During projects like these we can see that the potential for development of the individual is certainly existing. It only needs a chance for realisation.
Create opportunities!
Written by Franzi Schaper & Ulrike Enders on Wednesday, April 11th, 2018